Kiki Love is an artist and inspired free spirit residing in San Diego, California. From a young age she was drawn toward creativity and the healing benefits of art as expression. She studied Visual Arts at Cal State San Marcos where she explored many mediums of art including video, ceramics, painting and dance, with the support of her dedicated teachers. She also worked as an art educator for youth, sharing her love and passion for the creative process and hopes to continue her journey exploring art therapy.
Additionally, Kiki is trained in Ashtanga Yoga and Permaculture. She values Primitive Skills and learning about the natural world and its boundless generosity. Kiki's company, Infinite Love Designs is a synthesis of all her heart's callings, combining natural elements with pure passion, devotion and of course, Love.
"thank you dear kiki for my medicine necklace. It was a wonderful surprise, and I swear I can feel its power, protection and prayers in my heart" - Laura King
"I'm awestruck how beautiful and meaningful the note you wrote with it. I can't imagine a more special treasure to share with my sister. You're amazing! Thank You!" - Lili Arnold
"Dear Kiki, What a sweet surprise to receive the crystal necklace that you made (so delicately). I wore it all the way through, for the whole 544 miles across Spain. I know it was my crystal crystal guide around my neck who kept me safe and healing. The love you sent with it was appreciated in my every step. Thank you for your thoughtfulness." - Jzionna
"My deepest gratitude to you and the beauty, love and healing you have brought to my life. Your loving, healing, Shakti energy is what this planet needs more of. Keep shining. Keep loving. Keep healing. Keep creating. You are beautiful! thank you for bringing love and healing into my life when I needed it most." - Samantha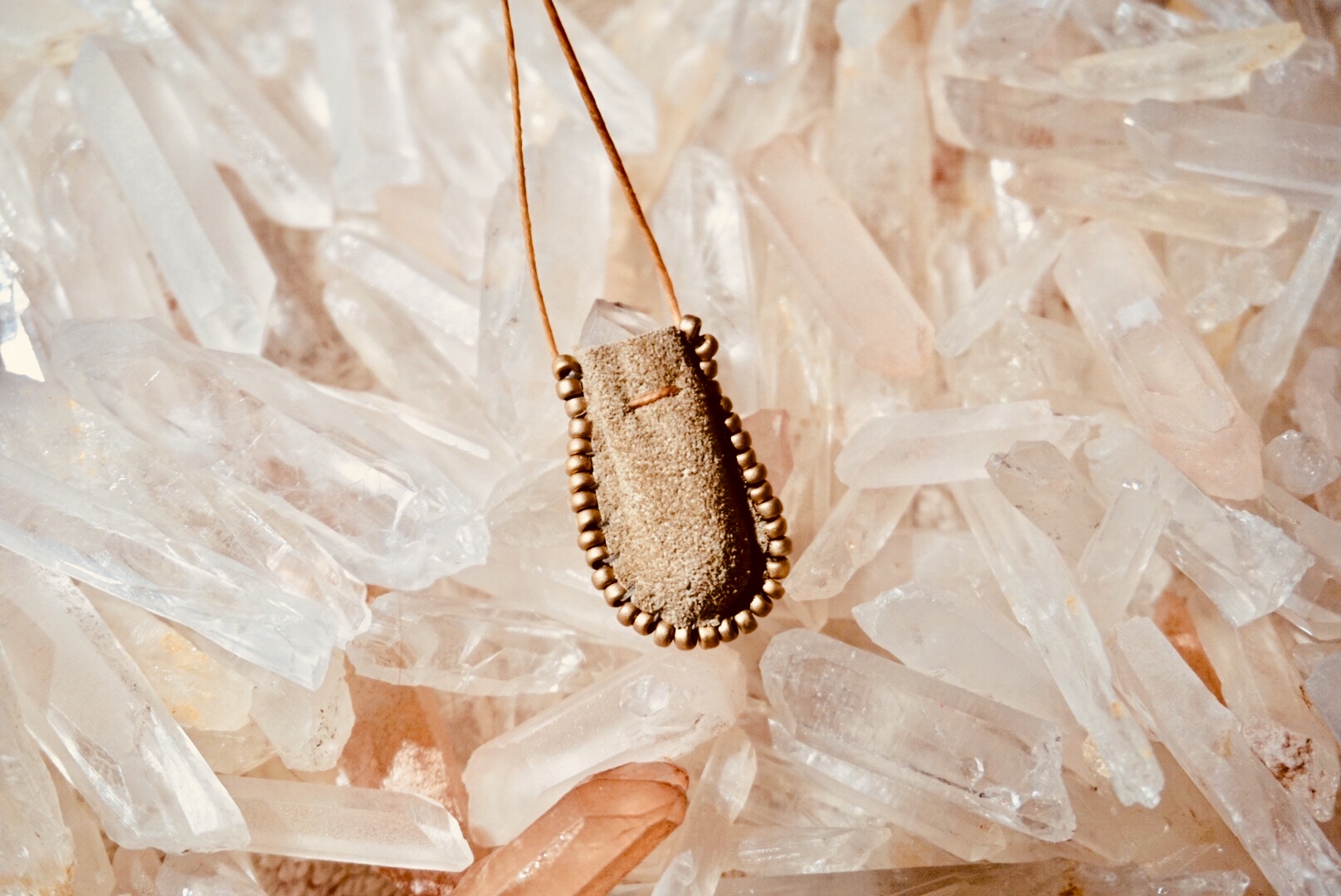 Infinite Love Designs is committed to sustainability, regenerative habits, local sourcing, wild harvesting, good communication, community, growth, and most of all LOVE. The mini protection pouches came out of a love of art and craft, nature and healing energy.
The mini protection pouch is one of a kind and hand made. It is woven with the intention to protect, soothe and remind you that magic is alive and happening all around you all day and night. Hold the pouch in your hand close to your heart and make a wish. Place around your neck or your hat band, in your car, your house or wherever needed. These are small, but potent and powerful. There is magic in small things.
They all come with White Sage inside. White Sage is known for its clearing and protective qualities. The Sage is harvested in San Diego, locally and sustainably, with love and prayer. The leather used is all scrap and recycled, and repurposed. Each mini pouch has a Quartz Crystal point inside. Clear Quartz is known to be one of the most powerful crystals and can be charged up with your individual wishes. The crystals have been bathed in the sun and celestial lights with local spring water.
May you always feel the magic around you and may you always be safe and protected.